The website is under maintenance - To keep up to date of the current status, please read more here. Normal forum functions should resume over the next few weeks.
Event details
On the right side of the Calendar click "I'M ATTENDING"
SITUATION
Bardufoss Air Station has been badly damaged. Our squadron has diverted to Evenes. There are now only 3 operational NATO airbases, while Russia has twelve.
Strike back to even the playing field before it is too late. Destroy 5 major airbases in one Hail Mary operation.
GAMEPLAN
Two OCA packages,

Crimson

and

Tiger

. Crimson strikes airbases in the north, while Tiger strikes airbases to the south on the Finnish coast.
Primary Targets:

ROSE BOWL

,

SUGAR BOWL

,

FIESTA BOWL

,

ORANGE BOWL

,

COTTON BOWL

Abort Targets:

LIBERTY BOWL, ALAMO BOWL, SUN BOWL

Method of Attack: +25k high speed loft 2xJDAMs per runway segment.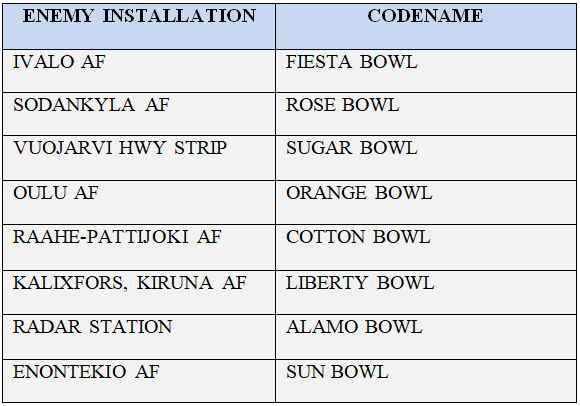 Tasking (in take off order)
17:23:30 BANSHEE1 (4xStrike Eagle) strikes Kiruna (LIBERTY BOWL) , clearing the way for our operation.
Tiger Package
BULLDOG1

ESCORT/ lead Tiger package south to the Baltic Sea. Until you reach the Baltic, MANEUVER TO AVOID ENEMY AIRCRAFT AS MUCH AS POSSIBLE. DO NOT PICK FIGHTS WITH ENEMY STRIKE PACKAGES. THAT IS NOT YOUR MISSION.

WILDCAT1

SEAD enemy air defenses on the Finnish coast.

TIGER7

OCA STRIKE

ORANGE BOWL

&

COTTON BOWL

. Abort Target:

LIBERTY BOWL.




Crimson Package
GATOR1

SEAD/ESCORT to the east toward

ROSE BOWL.

CRIMSON1

OCA STRIKE

ROSE BOWL

&

SUGAR BOWL

or audible to

FIESTA BOWL

depending on threats. Abort Target:

ALAMO BOWL/SUN BOWL.




THREAT ANALYSIS
MUD THREATS: numerous SA-10, SA-17, SA-6, AAA. Reference map.
AIR THREATS: FLANKER, FULCRUM, FULLBACK
RESTRICTIONS
HARD DECK
14000' MSL EAST OF FLOT
COMMS
Report WIN or LOSE at your Bowl Game
BULLDOG1-1 host datalink
UHF 15 - 308.775 Evenes TWR
UHF 17 - 359.300 CRIMSON PACKAGE
UHF 18 - 324.500 TIGER PACKAGE


TAKEOFF/RECOVERY
F-16AM's are heavily loaded, takeoff 16R
Landing 16R overhead break (right) 300kt 2200' MSL


Alternate Airfield: ANDENES 48NM N 028X UHF 369.25

WEATHER
Overcast 050 at takeoff
Scattered 050 during ingress
Overcast 050 at the target areas
Visual meteorological conditions


http://forums.unitedoperations.net/index.php/topic/29332-uoaf-bms-session-366-saturday-2019-1-5-1900z